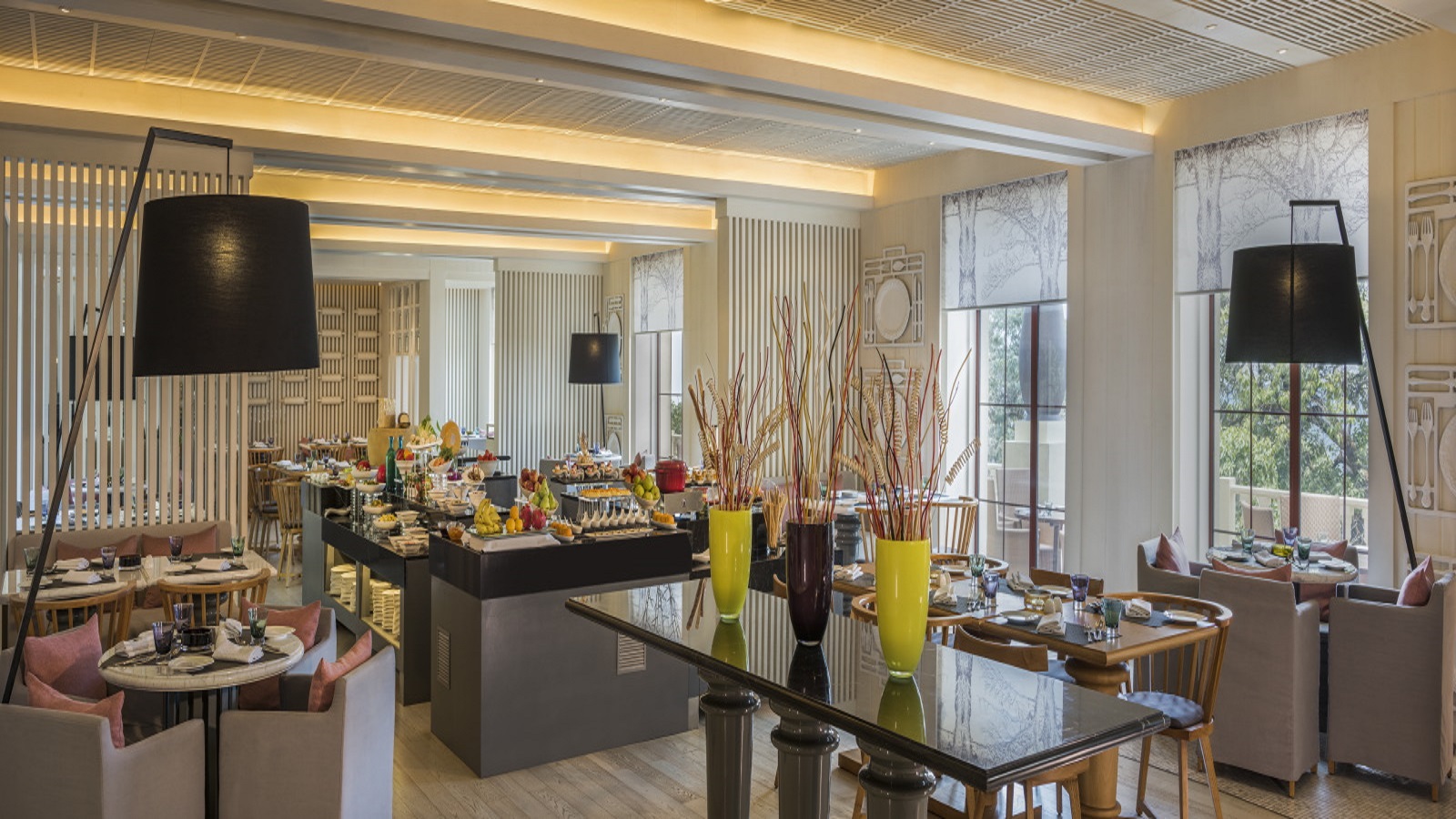 Casual and inviting, Latest Recipe serves a multicultural menu of Western, Asian, and Maharashtrian dishes in a sun drenched setting overlooking the Sahyadri Valley. Explore lunch and dinner buffets, as well as our Le Méridien Signature Breakfast.
Bright and inviting, our family-friendly Latest Recipe is the perfect spot to congregate for a relaxed meal with international flair. The large airy room is kept in pure white with accents of soft grey and pink. Large windows frame views of the magnificent Sahyadri Valley and lush resort lawns, while suffusing the room with abundant natural light. Step out onto the adjoining terrace--with its woven armchairs and wooden tables--to savour breakfast, lunch, or dinner while overlooking the resort grounds.
The restaurant's interior layout features tables throughout while white slatted screens are interspersed to delineate seating areas without interrupting the light. The large modern kitchen is open on all sides—offering a lively, interactive culinary display.
Under the auspices of culinary expert, our talented team serves an exotic menu of international and local dishes. Start the day with Le Méridien Signature Breakfast menu—a delightful morning repast created exclusively by the resort. Eye-opening elixirs, fresh-baked pastries, and spicy Indian pancakes are just a few of the items sure to awaken your taste buds.
Inspired by the freshest local produce, the extravagant lunch and dinner buffets include delicious Mediterranean, Far Eastern, Italian, Californian, and Maharashtrian selections. An extensive à la carte menu is also available—serving such delicacies as Norwegian Salmon and Malai Broccoli. Dessert selections such as the Whispering Berries Cheesecake are not to be missed. An extensive list of wines from around the world complements the menu perfectly.
For our younger guests, a special children's menu features many favourites—including Jerry's Mini Pizza, Pingu's Fish & Chips, and decadent ice cream sundaes.
Latest Recipe is pleased to serve themed buffets throughout the year. Given the restaurant's popularity, reservations are recommended.